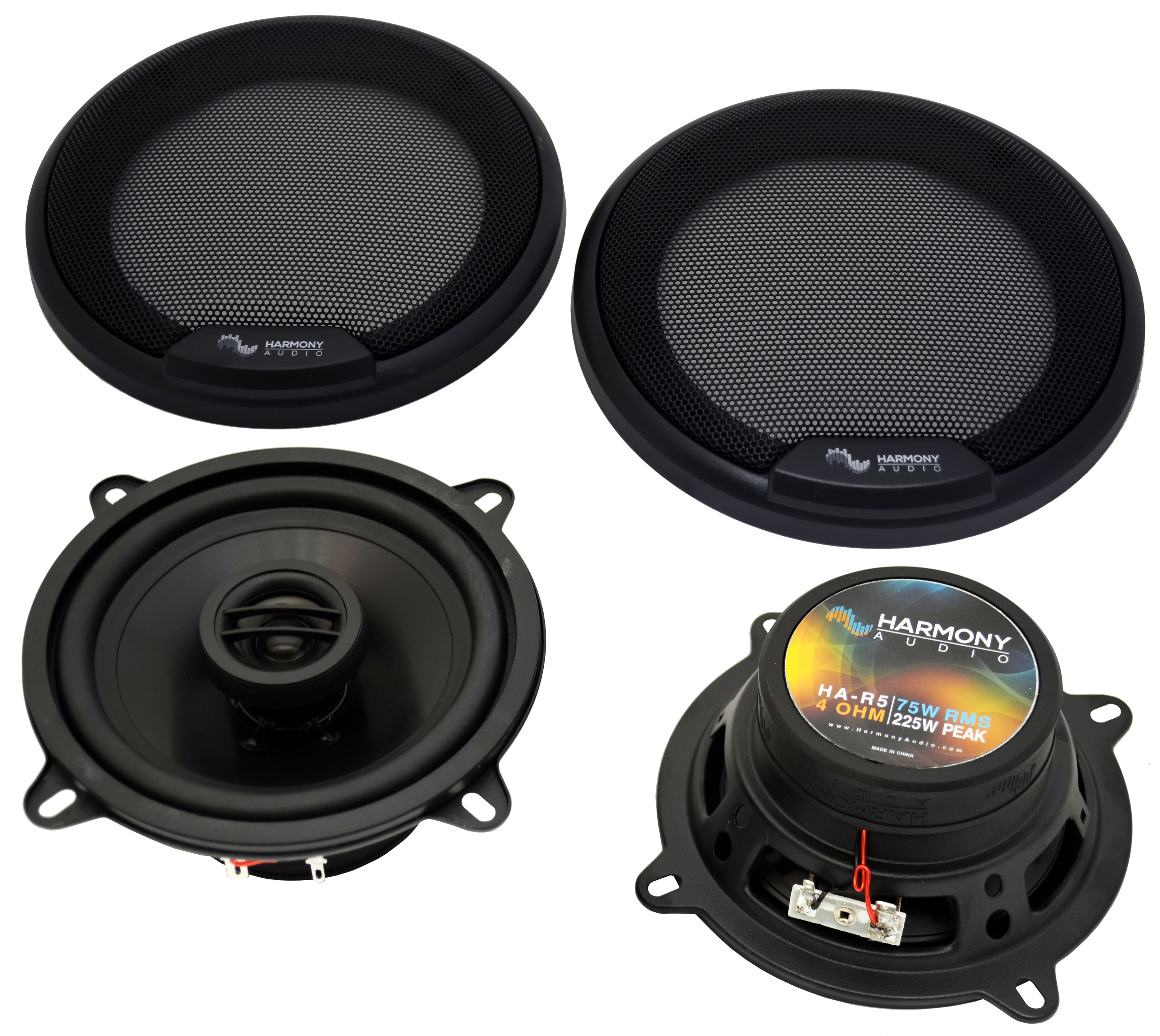 R Series
Upgrade Your Factory Speakers
Harmony Audio Rhythm Series is our entry line speakers, yet made out of premium materials and are designed to directly replace the factory speakers of your car. Unlike most factory speakers which are typically made out of cheap materials like paper and don't have tweeters causing lost of the upper frequency range, our speakers are built from high quality materials like polypropylene cones, durable rubber surrounds and they all come with 1/2" or larger PEI dome tweeters which dramatically improves sound quality and reproduces music like the artist intended it. Key Features:
Direct Fit OEM Replacement Size

Polypropylene Injection Molded Cone

Butyl Rubber Surround

PEI Neodymium Magnet Dome Tweeter

Passive Tweeter Crossover

Steel Basket

Ferrite Magnet

Kapton Former Material
The speakers are available in a wide range of sizes and packages.
Best Fit For Every Need
Harmony Audio offers 7 different models of speakers in different sizes and mounting configurations so you could find speakers that best fit your needs. Many of them include multiple mounting hole positions so they can be installed in almost any vehicle. The speakers feature high powered but slim magnets that will fit into even the tightest door panel or shallow mount dash. Another unique feature is the PEI dome tweeters which do not extend past the frame of the speaker which is important when installing a door panel back into its factory fit location.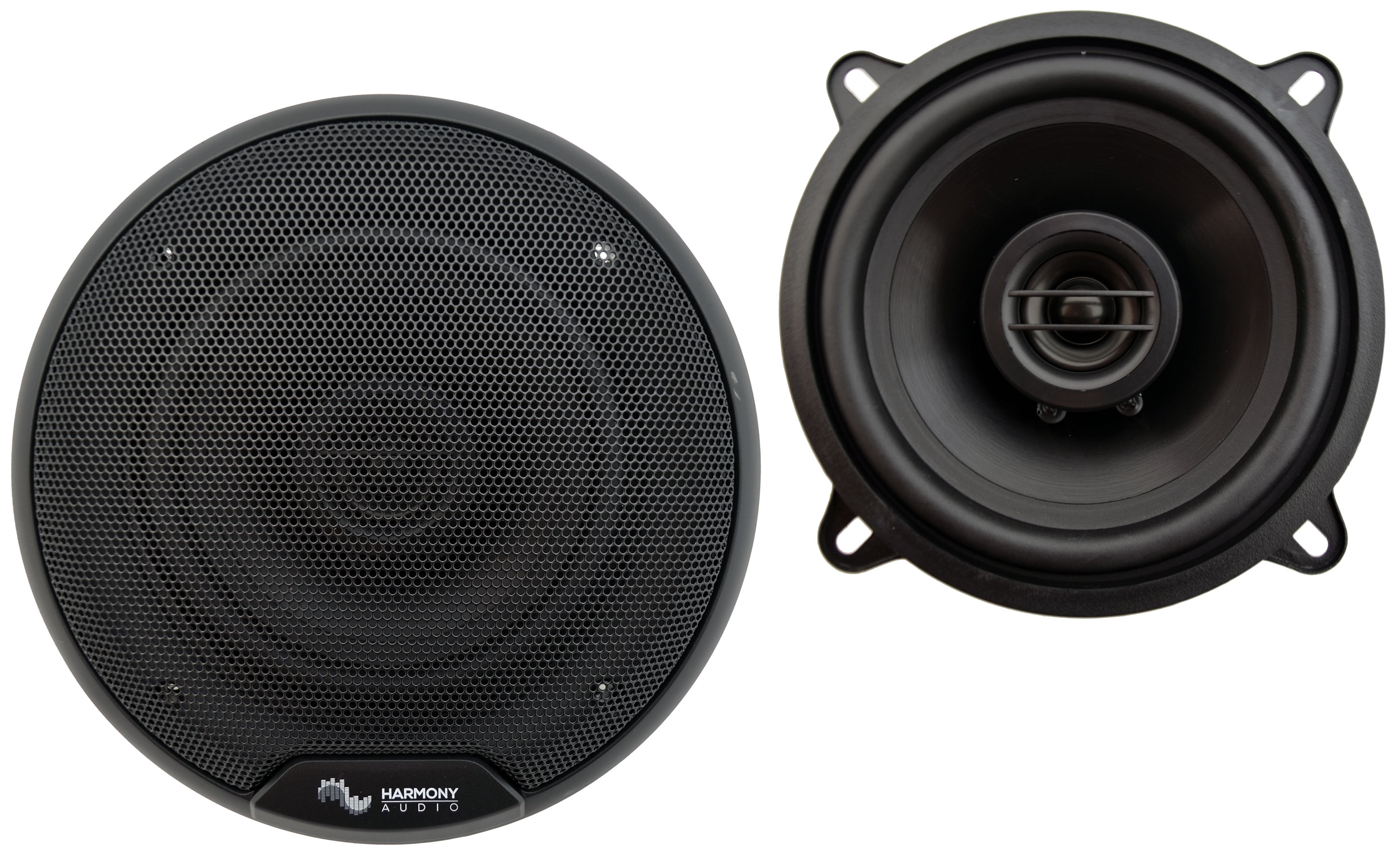 Specification

| Model | HA-R35 | HA-R4 | HA-R46 | HA-R5 | HA-R65 | HA-R68 | HA-R69 |
| --- | --- | --- | --- | --- | --- | --- | --- |
| Size (inch) | 3-1/2 | 4 | 4x6 | 5-1/4 | 6-1/2 | 5x7 & 6x8 | 6x9 |
| Peak Power (watts) | 90 | 150 | 120 | 225 | 300 | 225 | 450 |
| RMS Power (watts) | 30 | 50 | 40 | 75 | 100 | 75 | 150 |
| Sensitivity (dB) | 88 | 88 | 88 | 90 | 90 | 90 | 92 |
| Frequency Response | 85Hz-20kHz | 60Hz-20kHz | 50Hz-20kHz | 45Hz-20kHz | 40Hz-20kHz | 45Hz-20kHz | 30Hz-20kHz |
| Mounting Depth (inch) | 1-5/8 | 2-3/16 | 2-1/4 | 2-1/16 | 2-3/8 | 2-1/4 | 3-3/8 |
| Mounting Cutout Diameter (inch) | 3-1/16 | 3-11/16 | 3-7/16 x 5-9/16 | 4-1/2 | 5-11/16 | 4-15/16 x 7-1/16 | 6-1/8 x 8-11/16 |
| Voice Coil (Ohm) | Single 4 | Single 4 | Single 4 | Single 4 | Single 4 | Single 4 | Single 4 |
| Tweeter Size (inch) | 1/2 | 1/2 | 1/2 | 1/2 | 1/2 | 1/2 | 1/2 & 1 |
| | Buy now | Buy now | Buy now | Buy now | Buy now | Buy now | Buy now |