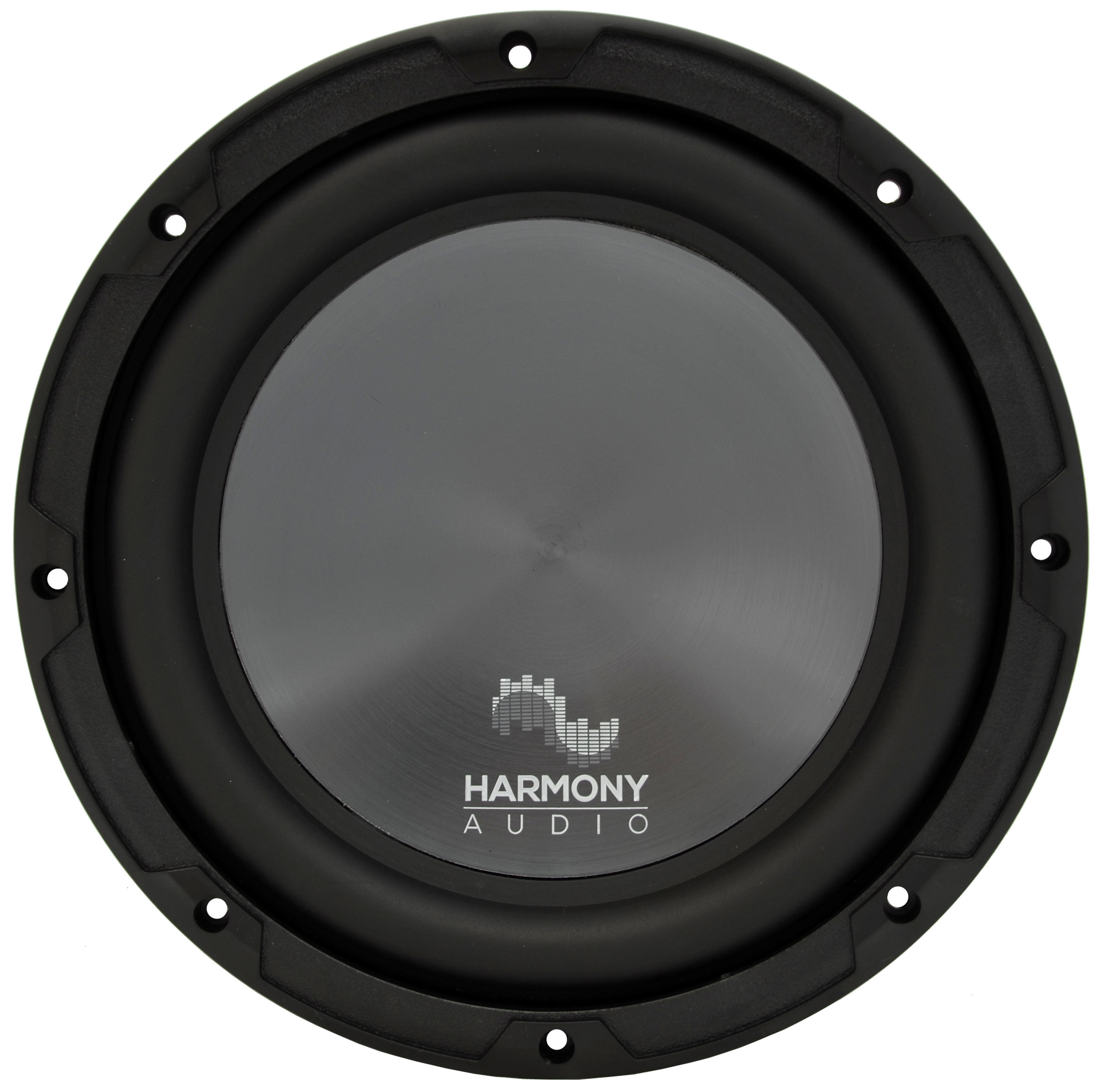 R Series
Entry Line Premium Quality
Harmony Audio introduces the Rhythm Series which is our "entry" line but there is nothing entry about this series with features like:
Interwoven Into Spider Tinsel Leads

Durable Butyl Rubber Surround

Metallic Injection Molded Polypropylene Cone

1.5" Copper Voice Coil

Steel Basket

Ferrite Magnet

Kapton Former Material
Materials are only half the story though the performance is what really makes the Rhythm series shine with a clean and smooth bass response in virtually any style sub box.
Hassle-Free Connection
The wire terminal is one of the most important features of the sub which handles the power transfer from your amp to the sub. Cheap outdated spade terminals take more time and effort to install and to keep it connected once installed. All Harmony Audio subs feature a spring-loaded push terminal that will accept direct speaker wire ensuring the ultimate connection and power transfer.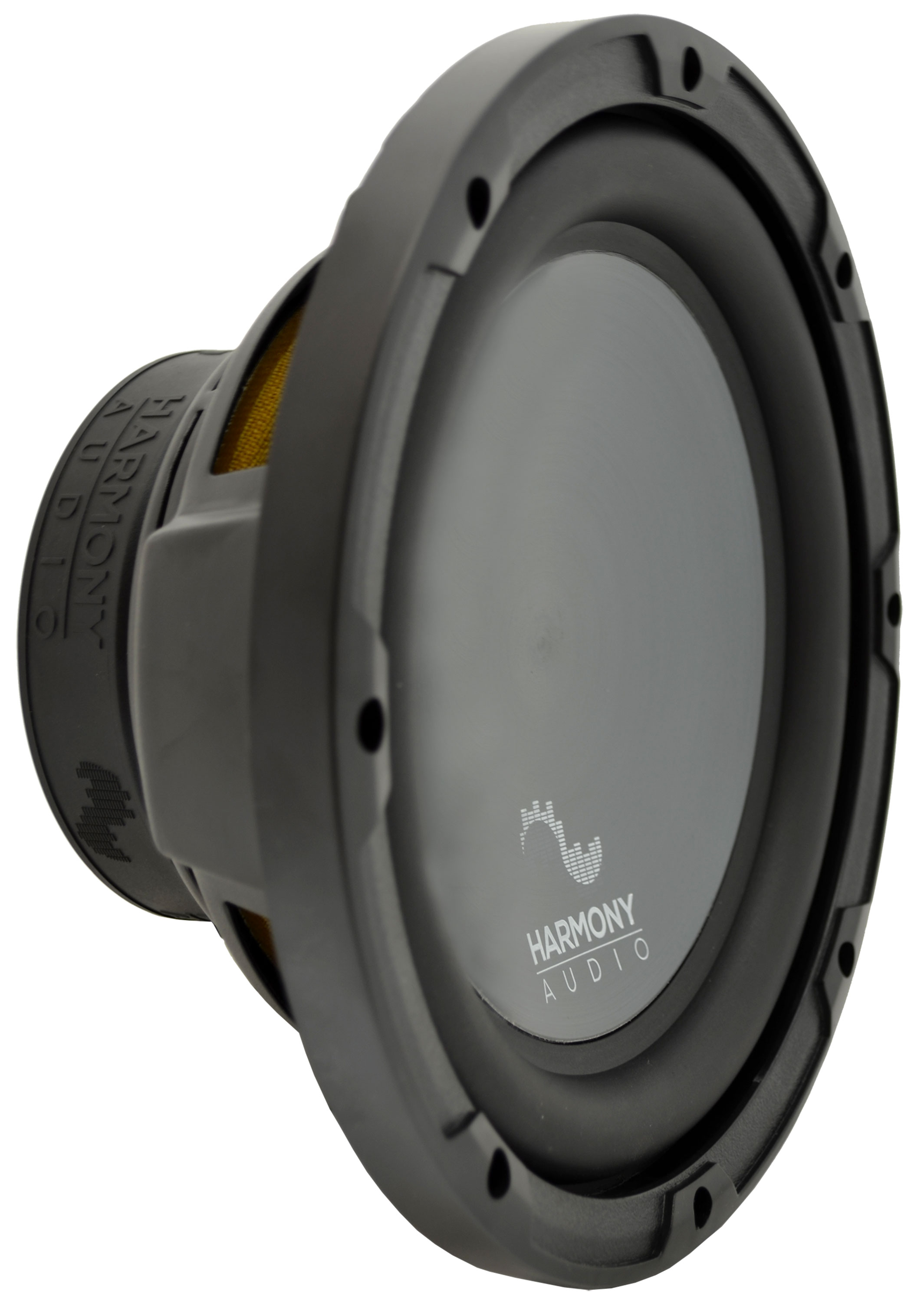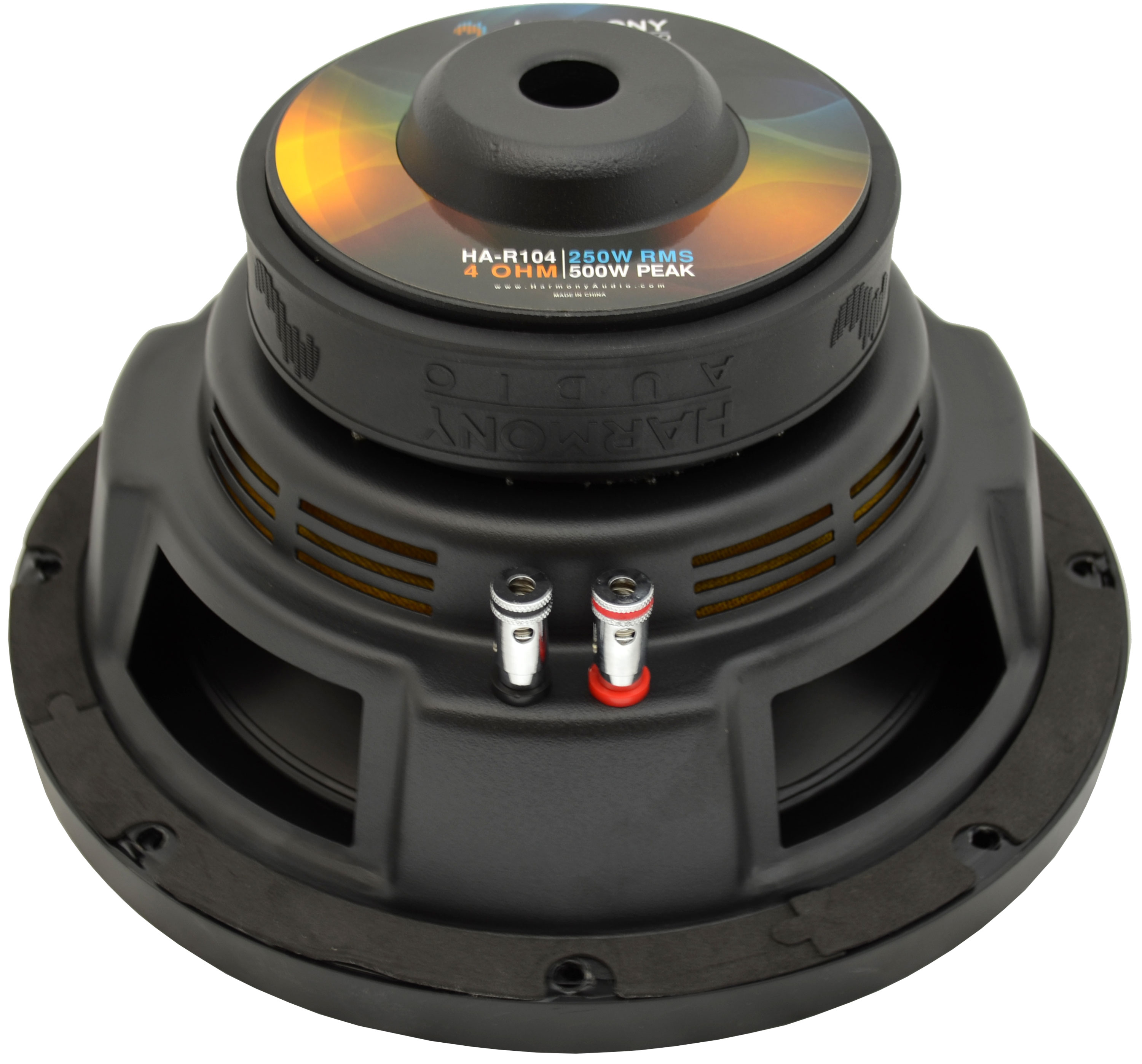 Leading The Way
A tinsel lead is the small wire that connects the voice coil to the input terminal and if you look at most other subs its positioned so when the subwoofer is playing the cone will actually slap into the leads creating a pop noise when playing. The advantage to an interwoven tinsel leads is both increased durability and performance.
Advanced Air Flow Cooling System
Harmony Audio Rhythm Series subs feature large slotted vents directly under the spider which allows cool air to quickly reach all the sensitive components.
Specification

| Model | HA-R104 | HA-R122 | HA-R124 | HA-R154 |
| --- | --- | --- | --- | --- |
| Voice coil | Single 4 Ohm | Single 2 Ohm | Single 4 Ohm | Single 4 Ohm |
| Peak (watts) | 500 | 600 | 600 | 900 |
| RMS (watts) | 250 | 300 | 300 | 450 |
| Sensitivity (dB) | 86.1 | 88.2 | 88.2 | 90.4 |
| Mounting Depth (inch) | 5 5/16 | 5 11/16 | 5 5/16 | 7 11/16 |
| Mounting Cutout Diameter (inch) | 9 1/4 | 11 1/8 | 11 1/8 | 13 7/8 |
| Size (inch) | 10 | 12 | 12 | 15 |
| Frequency Response | 30Hz-300Hz | 27Hz-300Hz | 27Hz-300Hz | 25Hz-300Hz |
| | Buy now | Buy now | Buy now | Buy now |